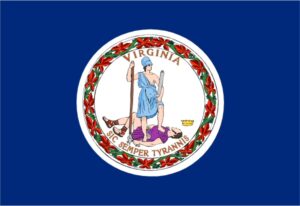 Auction School: Western College of Auctioneering is an approved auction school in the State of Virginia.
State Auction License Required: Yes
State License Required for Online-Only Auctions: No
Minimum Age: 18
School/Apprenticeship Required: Yes
Bonding/ Insurance: $10,000
Licensing Period: 24 months from the last day of the month in which the license is issued.
Continuing Education Required: Six hours per renewal period.
Fees: Exam $40, License $25, Renewal $55.
Reciprocity: AL (pending), FL, GA, IN, KY, LA, MS, NC, OH, PA, SC, TN, TX, WV
State Auctioneers Association: https://www.vaa.org
State Real Estate Contact: http://www.dpor.virginia.gov/Boards/Real-Estate
State Agency Contact:
Virginia Auctioneers Board
9960 Mayland Drive, Suite 400
Richmond, Virginia 23233
804.367.8506
http://www.dpor.virginia.gov/Boards/Auctioneers

*Courtesy in part of: The National Auctioneers Association