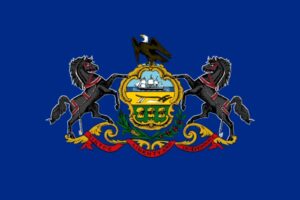 Auction School: Western College of Auctioneering is not currently an approved auction school in the State of Pennsylvania.
State Auction License Required: Yes
State License Required for Online-Only Auctions: Yes
Minimum Age: No age requirement 
School/Apprenticeship Required: Yes, 20 credit hours from approved school, apprentice for 2 years AND 30 auctions.
Bonding/ Insurance Required: $5,000
Licensing Period: Two years, expires February 28 of odd years.
Continuing Education Required: No
Fees: Application/License, $50, Renewal $260. Refer to 1.41 of the regulation for more fees.
Reciprocity: "The Board has the authority to grant licensure by reciprocity to applicants for auctioneer or apprentice auctioneer. To be eligible for licensure by reciprocity, a person must be licensed in good standing as an auctioneer or apprentice auctioneer in another state and provide payment for application fee and a properly certified copy of the license issued to the applicant by the applicant's current licensing state." Refer to Section 12 of the law
State Auctioneers Association: http://paauctioneers.org
State Real Estate Contact: dos.pa.gov/ProfessionalLicensing/BoardsCommissions/RealEstateCommission
State Agency Contact:
Pennsylvania State Board of Auctioneer Examiners
P.O. Box 2649
Harrisburg, PA 17105-2649
717.783.3397
www.dos.pa.gov/ProfessionalLicensing/BoardsCommissions/AuctioneerExaminers/Pages/default/aspx
*Courtesy in part of: The National Auctioneers Association