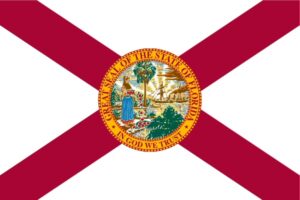 Auction School: Western College of Auctioneering is not an approved school in the state of Florida.
State Auction License Required: Yes
State License Required for Online-Only Auctions: Yes
Minimum Age: 18 
School/ Apprenticeship Required: Yes
Bonding/ Insurance: $100 Recovery Fund surcharge.
Licensing Period: Two years, expires November 30 of odd years.
Continuing Education Required: No
Fees: Initial Licensure by Exam – Education or Apprenticeship $444.50
Reciprocity: AL, AR, GA, IL, IN, KY, LA, MA, MS, NH, NC, OH, PA, SC, TN, TX, VA, WV, WI
State Auctioneers Association: www.floridaauctioneers.org
State Real Estate Contact: http://www.myfloridalicense.com/DBPR/real-estate-commission/
State Agency Contact:
Florida Board of Auctioneers
2601 Blair Stone Rd.
Tallahassee, FL 32399
850.487.1395
http://www.myfloridalicense.com/DBPR/auctioneers/
*Courtesy in part of: The National Auctioneers Association