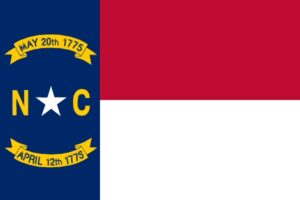 Auction School: Western College of Auctioneering is an approved auction school in the State of North Carolina.
State Auction License Required: Yes
State License Required for Online-Only Auctions: Yes
Minimum Age: 18
School/Apprenticeship Required: Yes
Bonding/ Insurance: $50 to Recovery fund
Licensing Period: Annually, expires June 30
Continuing Education Required: Four hours annually
Fees: Application $125, Exam $75, License & Renewal $250, Fingerprint Processing (Check for fee)
Reciprocity: AL, AR, FL, GA, IN, KY, LA, MA, MS, NH, OH, PA, SC, TN, TX, VA, WV, WI. Special conditions apply for FL, LA, MA, NH, TX, WI; contact NCALB for complete details.
State Auctioneers Association: www.northcarolinaauctioneers.org
State Real Estate Contact: www.ncrec.gov
State Agency Contact:
North Carolina Auctioneer Licensing Board
108 Ber Creek Drive
Fuquay-Varina, NC 27526
919.567.2844
*Courtesy in part of: The National Auctioneers Association