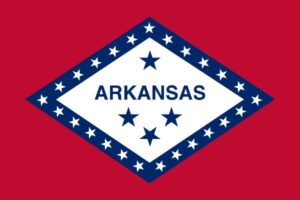 In the United States, auctions are regulated on a state by state basis. The Uniform Commercial Code (UCC) which is a general "code of commerce" serves as the basis for auction law and has been drafted, by many states, into their license law. Auctioneers in states that do not have a license law are required to follow UCC guidelines (Louisiana by analogy).
Auction School: Western College of Auctioneering is an approved auction school in the State of Arkansas.
State Auction License Required: Yes, additionally some counties and municipalities may require a permit or licensing.
State License Required for Online-Only Auctions: No
Minimum Age: 18
School/ Apprenticeship Required: No
Bonding/ Insurance: $100 to Recovery Fund
Licensing Period: Annually, expires June 30th.
Continuing Education Required: Yes, six hours annually. Exemption if 55+ and have been licensed by Arkansas Auction License Board for 10 consecutive years.
Fees: Exam fee $100, License fee $100 Background Check $22
Reciprocity: AL, FL, GA, IL, IN, KY, LA, MS, NC, OH, TN, TX, WI
State Auctioneers Association: www.arkansasauctioneers.org
State Real Estate Contact: www.arec.arkansas.gov
State Agency Contact:
Arkansas Auctioneers Licensing Board
101 East Capitol, Suite 112B
Little Rock, AR 72201
501.682.1156
*Courtesy in part of: The National Auctioneers Association
Auctioneer License Requirements by State
In the United States, auctioneer license requirements vary from state to state. Please visit our Auctioneer License Requirements by State page for additional licensing laws and auction resources for each state.