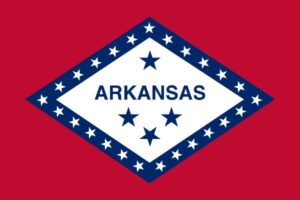 Auction School: Western College of Auctioneering is an approved auction school in the State of Arkansas.
State Auction License Required: Yes
State License Required for Online-Only Auctions: No
Minimum Age: 18
School/ Apprenticeship Required: No
Bonding/ Insurance Required: $100 to Recovery Fund
Licensing Period: Annually, expires June 30
Continuing Education Required: Six hours annually. Exemption if 55+ and have been licensed by Arkansas Auction License Board for 10 consecutive years.
Fees: Exam $100, License $100 
Reciprocity: AL, FL, GA, IL, IN, KY, LA, MS, NC, OH, PA, TN, TX, WI
State Auctioneers Association: www.arkansasauctioneers.org
State Real Estate Contact: www.arec.arkansas.gov
State Agency Contact:
Arkansas Auctioneers Licensing Board
900 W Capitol, 4th floor
Little Rock, AR 72201
501.682.1156
*Courtesy in part of: The National Auctioneers Association